Chimney Construction, Service, And Repairs Sonoma County & Marin County CA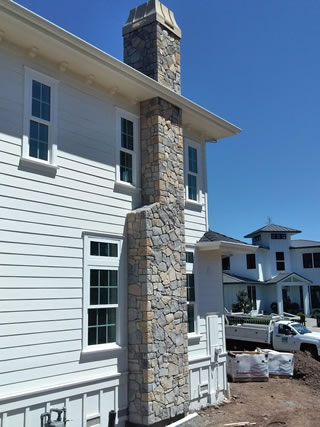 Chimney Services and Repairs in Sonoma and Marin County CA
We specialize in chimney construction, repair, and upgrades.
In order for your chimney to work properly it must be maintained, and if needed… It must be repaired too.  Chimneys made with brick and masonry are exposed to a cycle of heating and cooling hundreds of times per year.  This cycle slowly takes it's toll on the mortar holding your chimney together as it expands and contracts.  The flue and the chimney cap are also exposed to the intense heat and creosote build up that will eventually wear them out as well.
Sometimes chimneys don't just need structural repair.  Some chimneys need a more "strategic" repair because they could be causing problems for the home or business owner such as creosote build up or a chimney obstruction that is causing smoke and dangerous gases to re-enter the building.  The end result is you searching on Google for someone to repair your chimney.
Sierra West Construction is a local chimney contractor based out of Sonoma County, California.  We've been building, rebuilding, repairing, and upgrading chimneys since 1982.  Whether you need to build a new stone or masonry chimney, rebuild an existing chimney that is falling apart, repair a chimney or just install some upgrades, we're here to help.
Chimney Repairs in Marin County
Cracks in Chimney Flue
Creosote Buildup Problems
Chimney Troubleshooting
Chimney Rebuilding
Brick and Mortar Chimney Repair
Brickwork and Tuckpointing
How Often Should You Inspect Your Chimney
As the old saying goes "an ounce of prevention is worth a pound of cure"… The same applies to your chimney.  The National Fire Protection Association (NFPA) (of which Sierra West Construction is a member) recommends that chimneys be inspected at least once annually.  The main reason is to make sure there isn't a hazardous buildup of creosote which needs to be cleaned.
You may also want to make sure your chimney is still straight, not leaning, there are no cracks in the mortar, or brickwork (tuckpointing) that will need to be completed.  What about the chimney crown?  It's an area that is also prone to cracking and if cracked, can cause significant water damage to your home.  An annual chimney inspection is wise investment for any home or building owner that has one or more chimneys to maintain.
Who Repairs Chimneys in Marin County and North Bay Area?
Sierra West Construction is a full service chimney and fireplace specialist in the Marin County and North Bay area.  We specialize in complex chimney troubleshooting, repair, rebuilding and more.  With over 36 years experience in chimney and fireplace design and construction we have diagnosed and repaired many troubled fireplaces and chimneys.