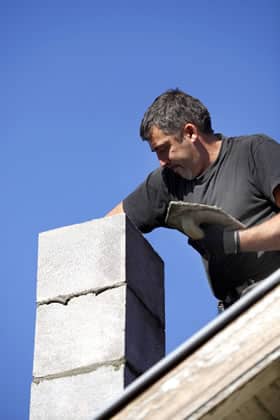 Your chimney flue lining is one of the most important parts in your chimney.  The main job of the chimney flue liner is to prevent heat, and hot gases from penetrating cracks in the masonry and getting into your home.  I am sure you would agree that this isn't a situation you'd want for your home.
If your home was built after 1940 and has a fireplace, then a chimney liner is required for all homes in the United States.  Current building codes require you to replace the liner once it becomes cracked or has decayed beyond the point of offering any reasonable protection for the home. In fact, current Local and National building codes state, "The Flue Liner Shall Provide a Continuous Gas and Moisture-Tight Insulating Lining between the Flue Gases and the Chimney Structure."
Chimney Flue Liners in Marin County
Stainless Steel Chimney Liners
Clay Chimney Liners
Chimney Liner Inspections
Chimney Liner Replacement
How Does My Chimney Liner Fail?
There are many ways the old standard clay chimney liners will fail.  One of the obvious is that they are exposed to excessive heat, and soot and creosote deposits.  Mixed in with a little bit of moisture from  a crack in your mortar and it can literally eat away and deteriorate the liner beyond repair.  Freezing weather although rarer in our area of California will also cause problems with chimney liners.
Chimney liners, especially if they are very old (15 – 30 years) can just be worn out…  The liner might have endured many thousands of hours of burn time.  Whatever the cause of your chimney liner failing, it's going to need to be replaced by a professional.
Is My Chimney Liner Covered By My Insurance?
Your insurance will only cover your flue liner in the event of a catastrophic incident such as a chimney fire destroyed the liner.  If your flue liner is damaged because of cracks in the mortar and water intrusion then it's likely going to be a repair bill that insurance won't be helping you with.  In the case of a chimney fire we can thoroughly inspect and document the damage for your insurance company.
Who Replaces Chimney Flue Liners in Marin County?
Sierra West Construction is chimney and fireplace specialist based out of Marin County.  We specialize in chimney liner inspections and liner replacement.  When you choose Sierra West Construction to work on your chimney you are partnering with craftsman who have over 30 years experience working on chimneys and fireplaces.  We can help you get your fireplace back in safe and working order.