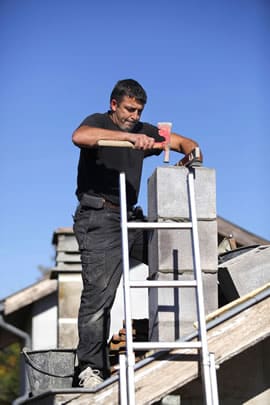 Do you have some masonry or stonework that is need of repairs?  Maybe it's a chimney that is starting to lean or collapse, maybe it's your fireplace starting to show cracks in the mortar.  Whatever the problem might be, if it's with masonry or stonework it's only going to get worse if it's not repaired properly.
Moisture, water intrustion, freezing weather, small earthquakes and ground or foundation settling are all problems that can cause your masonry or stonework to fail.  And as mentioned above the problem usually worsens over time, slowly but surely destroying the beautiful work.
Sierra West Construction is a full service masonry and stonework contractor based out of Marin County, California.  We specialize in complex masonry and stonework repairs to fireplaces, chimneys, retaining walls, custom rock work and brick work and more.  We provide our services to both home and business owners.
Masonry and Stonework Repairs in Marin County
Masonry Chimney Repairs
Structural Chimney Repairs
Fireplace Repairs
Masonry Repairs
Brickwork Repairs
Tuckpointing
Stone Leveling
What Is Tuckpointing?
Tuckpointing the exterior masonry joints such as those on a fireplace or chimney become necessary when the mortar between the joints is starting to deteriorate.  This is often started with a few hairline cracks, that slowly grow into much more noticable cracks. Tuckpointing involves removing the old mortar (a tedious process), and then repairing any damaged masonry and then re-filling the joints with fresh, mortar.
From replacing a few missing bricks in a chimney to rebuilding your entire fireplace and chimney system Sierra West Construction is equipped to handle any size of masonry or stonework repair project.