Chimney And Fireplace Contractor Serving Fairfax CA
Fireplace, Chimney and Custom Masonry Contractor in Fairfax CA
If you have a fireplace in your home or building already there is no need to convince you of it's usefulness.  From heating your home naturally (in the case of a wood burning fireplace) to setting the ambience or tone in your restaurant, dining hall or professional offices.  A beautiful fireplace makes for a more luxurious and relaxing experience for all.
A fireplace isn't just a hole in the wall you feed fuel every now and then, it's part of a system which includes your chimney, a flue liner, and usually a lot of masonry work depending on whether you have a traditional brick chimney or something that has been fabricated out of stainless steel.
In order for your fireplace  and chimney to work properly they must be maintained and repaired when necessary.  Fireplaces and Chimneys made with brick and stone masonry are exposed to a cycle of heating and cooling hundreds of times per year.  This cycle, coupled with excess moisture and the occasional freeze slowly takes it's toll on the mortar holding your chimney together. 
Fireplace Construction and Repairs Fairfax, CA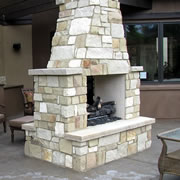 Are you looking to build a new fireplace in your home?   Maybe a new outdoor fireplace and patio?  Maybe your existing fireplace is tired and needs to be restored or repaired?  Sierra West Construction specializes in designing and building custom fireplaces both indoor and outdoors.  We also repair and restore existing fireplaces made with brick, stone or even pre-fabbed metal fireplaces.  If you're looking for wood to gas conversions or wood burning stoves we can install them as well.
Chimney Construction and Repairs Fairfax, CA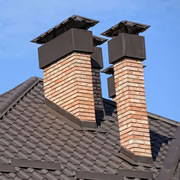 A well built chimney should usually last a very long time, many are not well built, nor were they built to handle the seismic stresses they receive in our area of the country.  If your chimney is collapsing, leaning, or in obvious need of repair then Call Sierra West Construction today.  We can thoroughly inspect your chimney and come up with a plan to repair it or rebuild it for you.  We can replace flue liners, chimney caps, spark arrestors, and repair chimney crowns and more.
Custom Masonry and Stonework Fairfax, CA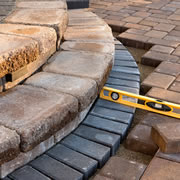 The work of an experienced stone mason is hard to ignore.  If you're looking for that unique look with your masonry project, for an outdoor fireplace, an indoor fireplace, a custom retaining wall or landscaping feature then we can help.  Sierra West Construction has over 30 years of experience designing and building custom masonry and stonework projects for both residential and commercial clients.  If you're existing masonry or stonework is aging and in need of repair, we also offer extensive masonry repair services and solutions for even the most complex masonry problems.
Rebuilding or Restoring YourFairfax, CA Fireplace and Chimney?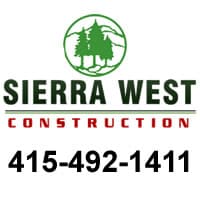 Since 1982, Sierra West Construction has been Marin County's chimney, fireplace and custom masonry specialists. That means we bring over 30 years of experience to every job.
At Sierra West, professional workmanship and extraordinary quality are our first priority. Founder and owner Steve Lenschmidt personally attends to every job, ensuring customer satisfaction through his integrity and attention to detail. State licensed for more than 23 years, Sierra West has earned the Better Business Bureau's Honor Roll Award year after year and is a member of the prestigious International Conference of Building Officials (ICC).  When you choose Sierra West Construction for your Fairfax fireplace or chimney project you're partnering with the best.